Website Designing companies are those that help a client, design a website for the growth and expansion of their particular business.
Today, we live in a world caught up in a web. The web is an exciting place for the new and a mere memory of the old. Everyone is now on the web, accessing it from places far and wide. It is indeed fascinating how so many individuals are connected at a given point in time. It's all about reaching out.
Since everyone has access to the web, there originated the website. A place on the web that gives you the information you are seeking. Often it serves a purpose that is greater than just informing. Nowadays every business has a website.
A website now serves as a platform for a monetary transaction, brand interaction, and of course to inform the masses. For these wonders to come into being, a website design company works endlessly to make this possible.
Starting as a new business, one needs some ability to enter the market. A Website design company will dive deep into the crux of your business to create the perfect website for you. Multiple departments work in cohesion to produce the expected result.
Today, they not only excel at creating a website but also guide you through new ways to build your business. Talking of which, let us explore the top 10 website design companies in India.
Top 7 Website Design Companies Listed Below
1.  IndiaNIC Infotech Limited – Web Design Company
Established in 1997, IndiaNIC has been veterans of the web development and mobile app industry. It does not see itself as an entity but calls their company with over 400 employees, a family. IndiaNIC's definition of success is to club innovative ideas with tech and deliver the best-suited result for their clients. It seems as though their strength lies in the feeling of togetherness that they share as a team.
On their website, they have chalked out their services, solutions they offer as a website design company. They break down their web designing process into 4 simple steps, Discover, Design, Build, and deliver. All the information you need is on their home page and makes you want to know them more.
Their services include Web and Mobile apps development, Design, DevOps, Interactive Content, IoT (Internet of Things), and many more. Their clientele ranges from all sectors of the industry and some of them have been Abbott, Adidas, McDonald's, and TATA. As a website design company, their website speaks for itself. No doubt it is rated as one of the top website design companies in India.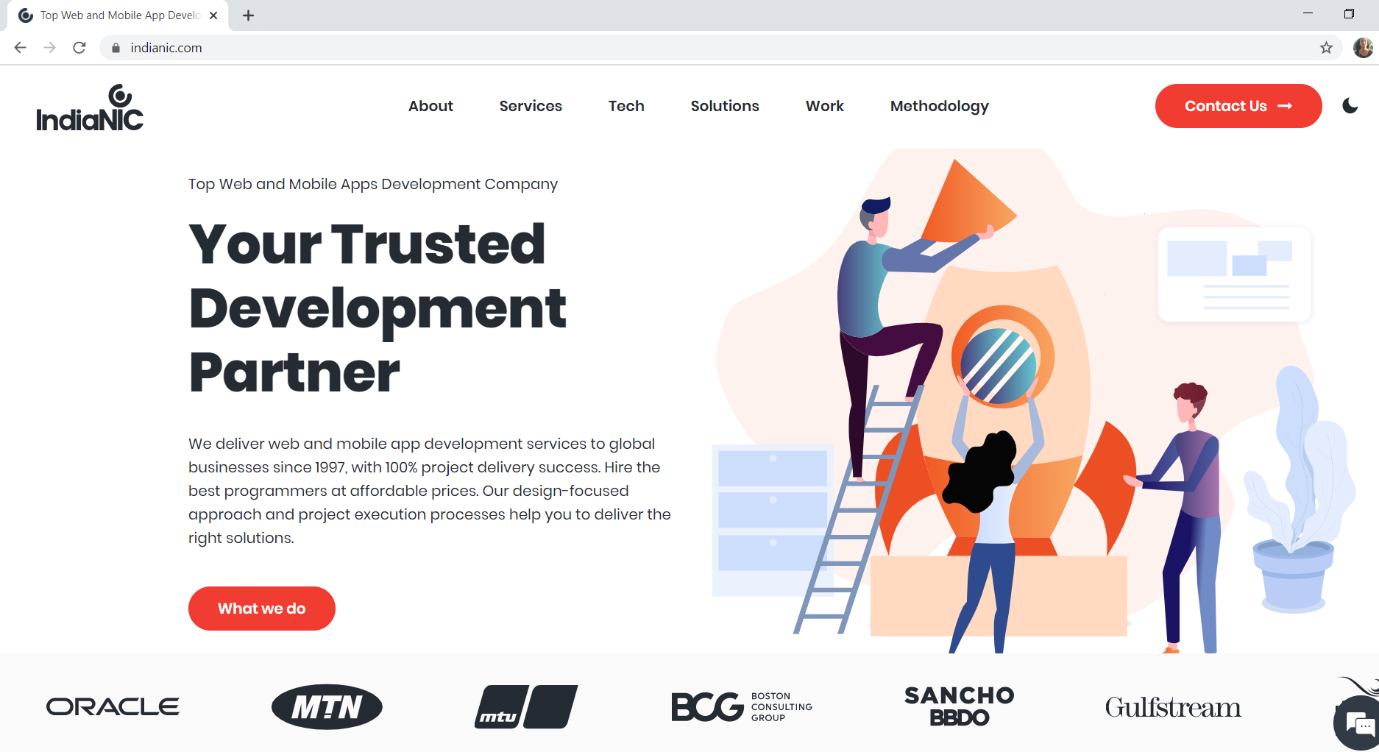 2.  Capital Numbers – Web Design Company
Capital Numbers is a website design company that has been providing design services to multiple clients across the globe since 2012. Their motto is to provide Digital Innovation, On-demand. What makes it stand out is their use of custom teams for every client they engage with.
Their services include Web and Mobile App development, Data science development, AI and Machine Learning, E-commerce, and Content management systems. The company has over 400 in-house software experts and over 1500 successfully delivered projects. An interesting feature on their website is their 'Schedule Time to Talk'.
This explains that they are highly approachable and it saves the hassle of making a call to book an appointment. Their clients are Reuters and Digital Marketers among many others. Capital Numbers takes pride in the multiple awards and industry recognition they have received and that adds to their credibility of ranking as one of the top website design companies we have today.
3.  Page Traffic –  Seo Agency
A company rated as India's number 1 SEO agency since 2002, is also a website design company. It specializes in SEO services but also provides other services like Social Media Marketing, PPC (Pay Per Click) services, Web designing, Online Media Buying, Link Building, and SEO Training Consulting.
Page Traffic provides customized SEO solutions that are unique to each client and their business. The company's approach towards their clients is to build a business by helping them connect better with their target audience to boost its brand recognition and produce loyal customers.
With a target so exact, this website design company surely delivers a better result. Page Traffic is an agency trusted by clients like OLX, Raymond, HCL, etc.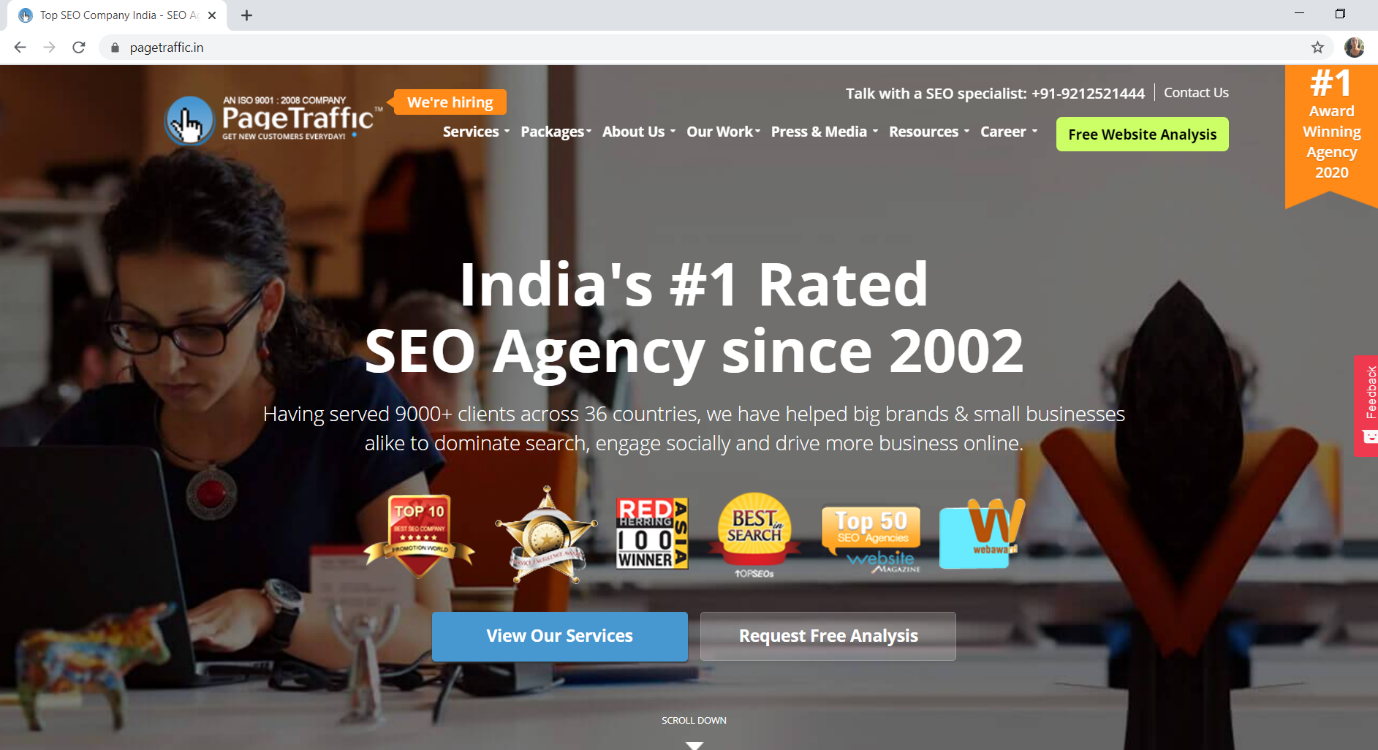 4. Bachoo – Web Design Company
With an interesting name, Bachoo aims at fusing client ideas with creative logic, tech, and design to help create the best product. Bachoo means 'to see' in the Ukrainian language. Their tagline is 'Architecting the Digital' which tells us so much about their approach towards design.
Though a start-up and has worked only for the past 5 years, Bachoo has left a mark in the industry by making it to the top lists of a website design company reviews.
is interesting on their website is their Project Log. This tab provides information about their successful projects in the last 5 years.
We see complete transparency and accountability of work on their website. The best part about it is that they leave it all for you to 'see'.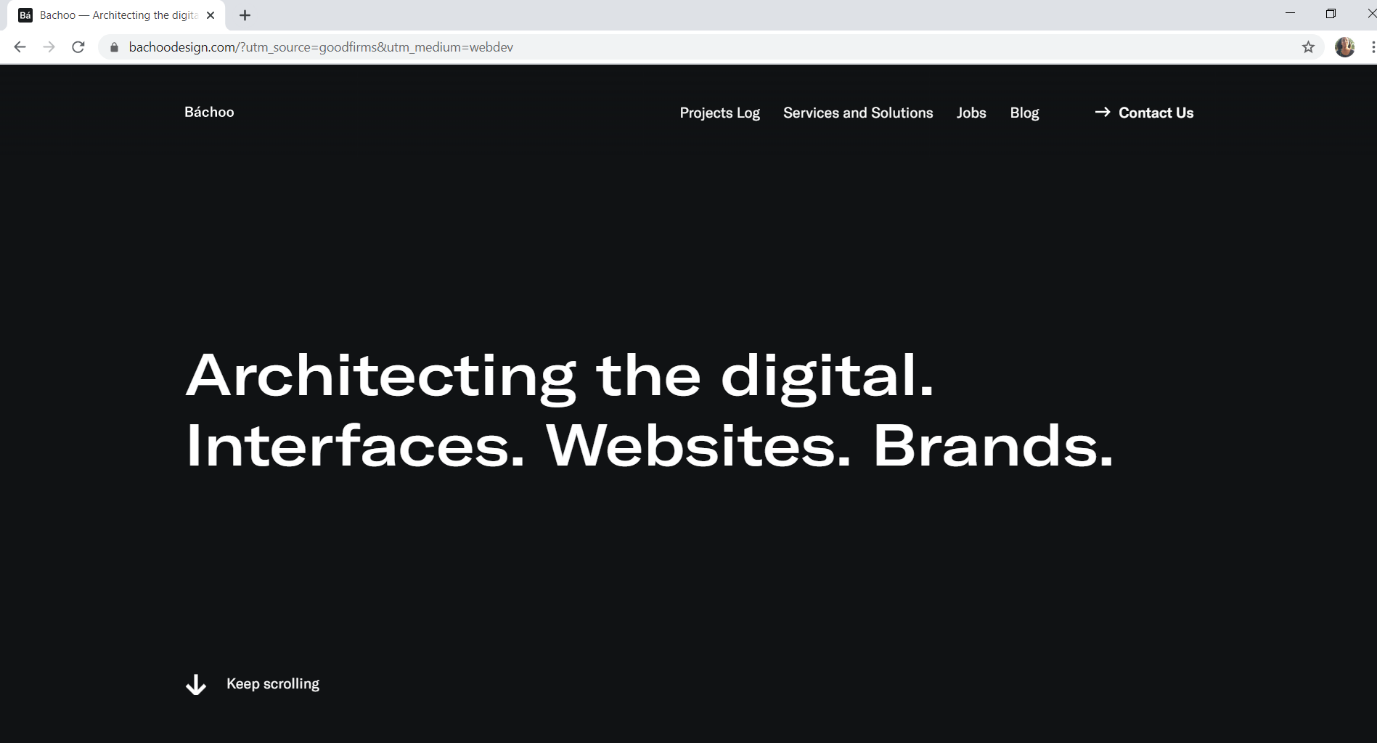 5.  Unified Infotech – UI / UX design
Unified Infotech has been in the industry for over 10 years now and has proved its place in the market by receiving awards and recognition by certified agencies. With over 1500 solutions delivered, this website design company, among many other services, has excelled in every field of clientele. Open Reel, London Rag, and House Lab are a few of them.
Their core services include Web and Design Development, Mobile App Development, Custom Software Development, and UI/UX Design. What makes them different from the masses is their process of development.
They don't just develop; they Research, Analyze, Plan, and Document each project to execute the best results. Their website has a feature called 'Request Free Consulting' which is an add-on advantage that allows you to connect with them at the point of contact.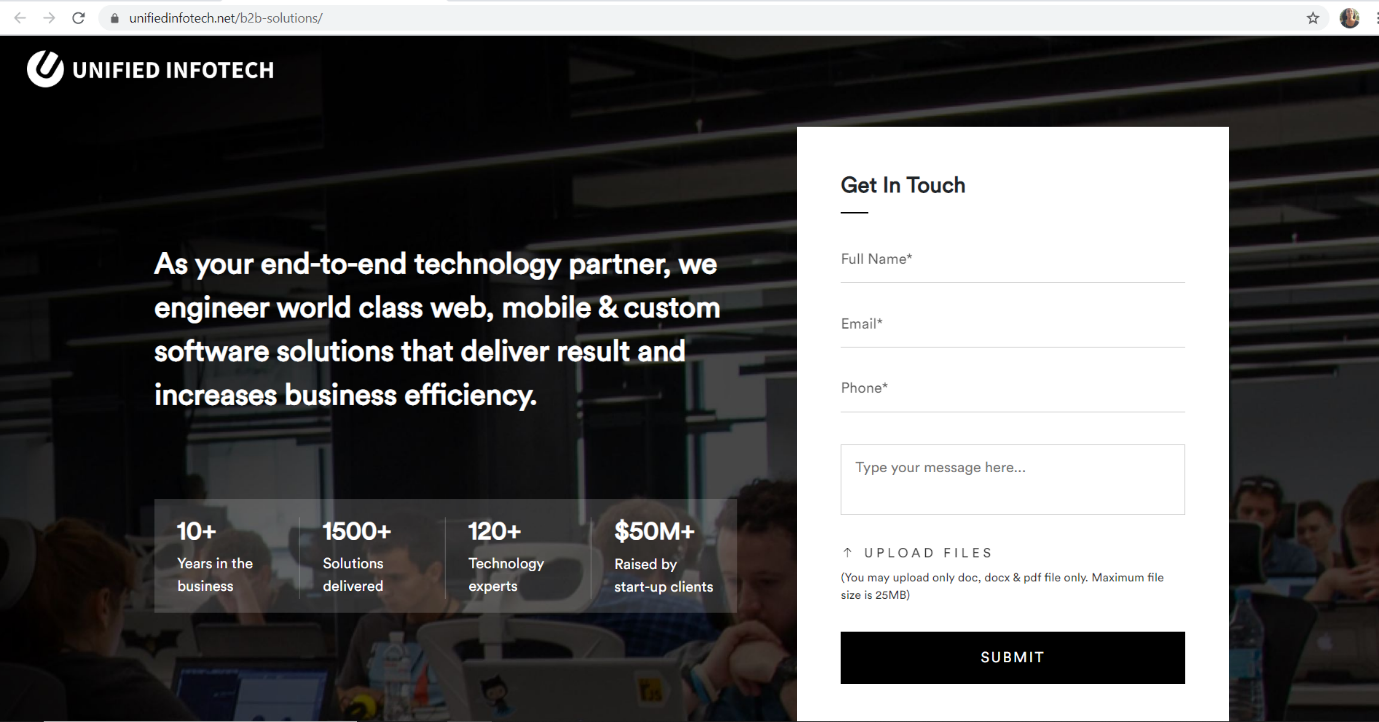 6. Web Design Discovery – Web Design Company
This website design company's website justifies itself. They have a very engaging and interactive homepage. Web Design Discovery aims at creating feature-rich, appealing, and business-centered websites that will catch the visitor's attention immediately.
With a creative design, optimized speed, and responsive design, these website design companies have appeared in recognized review ratings. Services they offer are, Web Designing, Web Development, E-commerce Solutions, Social Media Marketing, Mobile Apps, SEO, WordPress Customization, and Logo Design.
Web design discovery has a unique feature on their website, called FAQ or Frequently Asked Questions. Some visitors might find it very helpful to have their questions answered without having to call or wait for an appointment.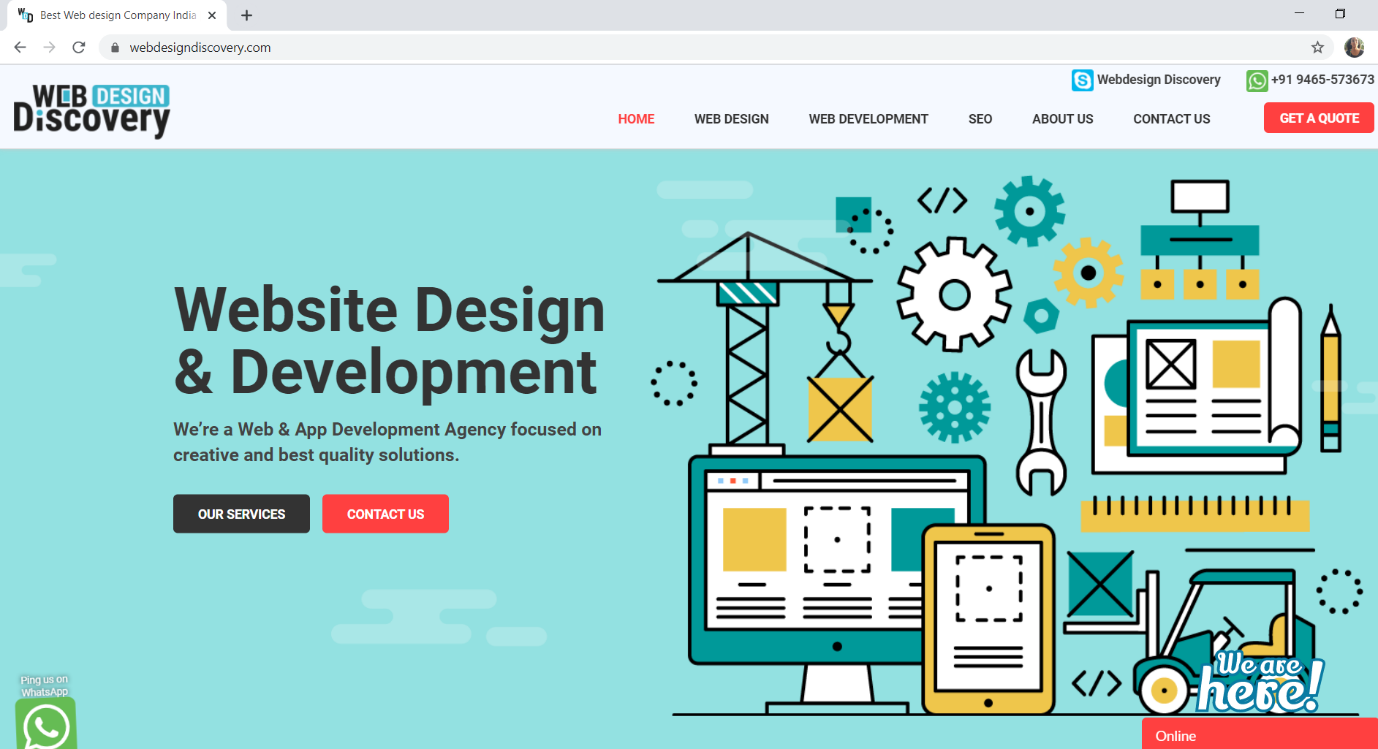 7.  Tvisha Technologies  – Software Development Company
Founded in 2003, Tvisha Technologies have been around for more than 15 years in the industry. Recently in the year 2018, they've been awarded as the Best Software Development Company in India.
Their clientele spans across multiple industries like IT, Hospitality, Banking, Education, etc. This website design company calls itself a 'tech-cocktail' because they believe in combining technological innovations with designing and business consultancy.
Their services include Web Development, Mobile App Development, UI/UX Services, Digital Marketing, and DevOps services. Geekschip, Feed buck, and Tine Dynamo are some of their clients.
Making it to the top lists has various factors to it like time, experience, tech amenities, etc. Whether companies make it to the top or not, they remain a website design company that always aims to build your business. The primary aim of every website design company will be to increase customer interaction on your website so that visitors have an experience on your website and not a mere visit.
Join 5,000 customer-obsessed readers on our mailing list.