Writing a blog is sure a mammoth task, but presenting it is like adding the cherry on a cake. We come across tons of blog content daily, how many do you stop and read? With WordPress blog themes, you can keep readers glued to your site for long. After all, your blog is also a website. A blog theme is as important as the content.
I'd say, the articles on your blog are the stars, while themes add the shimmer. Today we have thousands of free WordPress blog themes that match almost every subject. Like business, travel, food, and the list go on.
Therefore, I present to you 15 handpicked free WordPress blog themes that will help increase consumer engagement and, eventually, traffic.
15 Best Free WordPress Blog Themes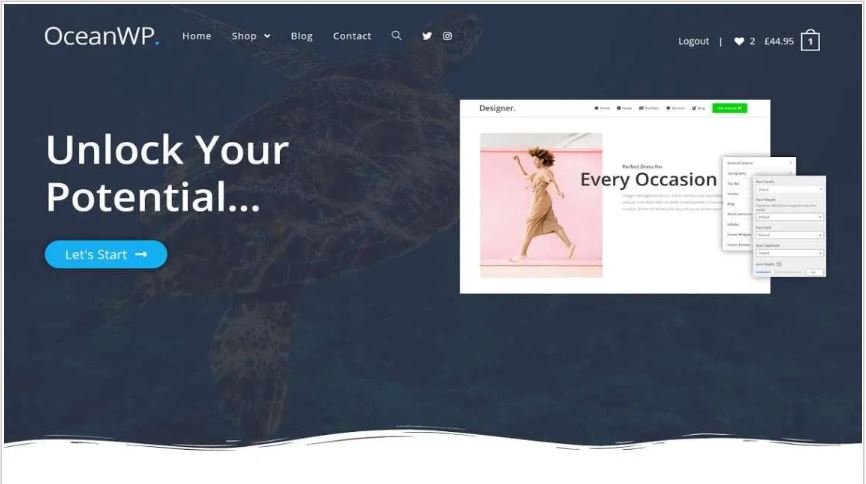 OceanWP opens up a box full of possibilities to customize your blog. This free WordPress blog theme is ideal for blogging. Supported by page builders like Elemetor and Beaver builder, OceanWP is popular among its category.
OceanWP allows you to edit settings separately for tablets and mobiles. It comes with a set of extensions as well to improve your blog's functionality.
Knowing how vital optimization is, OceanWP has the best SEO practices. This free WordPress blog theme is translation ready, fast, and responsive.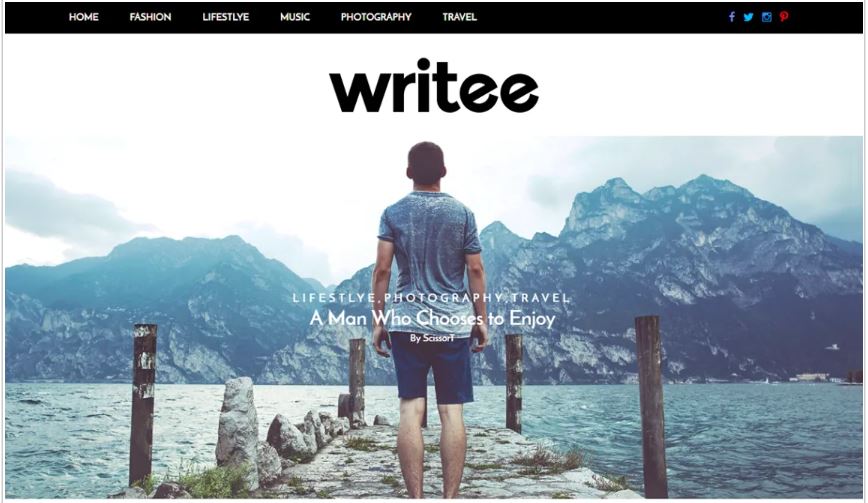 Writee is the right choice if you are looking for a theme to suit a personal, food, or a travel blog. This free WordPress bog theme can mold itself into any blog topic.
Writee gives you a full-width slider for your homepage to display your content in style. You also get three custom widgets to upgrade your blog's sidebar.
While it provides these facilities for customization, it also looks good on smaller screens. In addition to all this is, Writee supports over five languages and is translation ready.
Like it says, Hemingway is just another free WordPress blog theme. It is a good pick for those looking for a two-column layout. It is a clean and simple layout for any blog topic.
With a parallax scrolling effect and a full-width image header, your blog site can be interactive and striking. While it is a two-column layout on desktops, this theme is entirely responsive and adjusts depending on screen size.
 It allows you to add custom logos, colors, and page templates on your blog. All this comes with no price tag. This free WordPress blog theme is ideal for first-timers and the experienced.
Poseidon is the apt choice if you are looking to captivate your audience with pictures. Its full-screen carousel feature sure makes your blog site vibrant.
As per the design, it follows a simple layout. Those who prefer a magazine template, the widgets feature, will make it happen. It also integrates social media handles so you can share it right away.
What is striking is the use of negative spacing. Since the design is such, it draws your attention to the blog posts and images, making it easy to read.
Responsive and optimized, this free WordPress blog theme is worth a try.
Olsen Light caters to a particular niche. This free WordPress blog theme is best suited for a lifestyle, fitness, fashion blog, etc. it comes with a bag full of customization options.
Easy to use and with highly customizable widgets, Olsen Light adds a high-end feel to your blog site. Sophisticated and chic, this blog theme radiates class.
Olsen Light is compatible with popular page builders like Divi, Elementor, etc. Integrated with social media handles, it is a preferred choice for an influencer's blog. It is also fully responsive.
Lovecraft is a free WordPress blog theme designed exclusively for bloggers. With a beautiful two-column layout, it gives you a clean design to place your blogs and pictures.
It offers a full-length image header that can switch with post thumbnails and pages. Lovecraft supports Block Editor and allows you to customize accent colors and logos.
 It comes with a unique widget: the recent post and comments widget with thumbnails. This feature leads your reader to your latest post and builds engagement.
Lovecraft is a fully responsive, optimized, and ready-to-use free WordPress blog theme.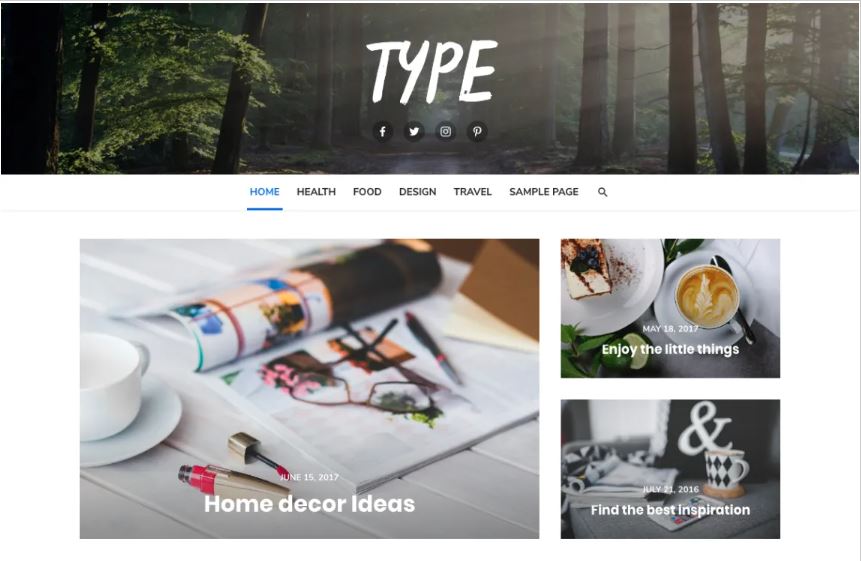 The DesignLab created this free WordPress blog theme. Type is a flexible and beautiful theme for your blog site. It can transform itself into a simple, minimalistic blog or a magazine layout if you prefer.
Type gives you four varieties of headers and three variants for layout. To this, you can add a custom logo, accent colors and shift your sidebar position too.
It also includes a Featured Post option for your best posts to be on your homepage. Customization with Type is effortless, and it gives you a preview before you lock in your design.
Type is a free WordPress blog theme that is also search engine friendly. It is compatible with Firefox, Chrome, and Safari. Mobile- friendly too. There's so much to explore with Type.
Tracks is a free WordPress blog theme that has a different aesthetic than the others. A comparatively darker yet clean and modern take on a blog template. It does a good job accentuating the pictures on your blog.
Focusing on featured pictures, Tracks allows you to adjust the layout and choose how you want to display your photographs. It can go from full-width to half-space. You can change the location of the social media icons to the header, footer, or both.
An exciting feature of Tracks is that in addition to the social media icons, it enables you to display icons for Slack, Slide Share, Four Square, and many more.
While you do not have color and typography customization, this free WordPress theme contains a written tutorial to turn your blog site into a mobile-friendly app.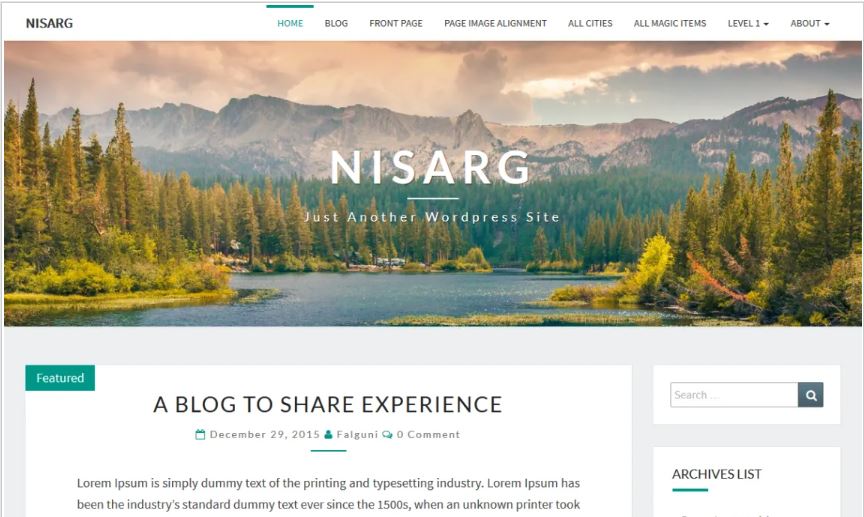 Nisarg is a free WordPress blog theme designed by Falguni Desai. It is a gorgeous and simple blog theme suited for any kind of blog topic, mostly preferred for travel, photography, food, and lifestyle blogs.
Highly responsive making it mobile and tablet- friendly. It comes with a set of navigation menus, full-width sliders, and custom color and background, text, and logo choice.
The post option allows you to choose how much of the article you want to show on your post listing—either full or an excerpt.  Nisarg is translation ready and can set up in minutes. It is also RTL language ready for those languages that read from Right to Left.
This free WordPress blog theme creates a magazine-style blog. If you're looking for layouts for a sports or news blog, this is an ideal one to follow.
With a three-column layout, Admiral serves as a perfect layout where there are multiple topics on a blog. It also has two sidebars on either side of the page and content features in the center.
Although the homepage follows a magazine template, it has a featured post slider, widget header area, and much more. Responsive and optimized, this free WordPress blog theme is one of its kind.
The Gucherry Blog is a free WordPress blog theme best suited for lifestyle, fashion, and travel bloggers. With a stunning slider on the homepage, it adds an aesthetic look to your blog site.
It also has widget options like the Author widget and can be placed on the sidebars. Interestingly, the Gucherry Blog gives you space to display ads and monetize the blog.
This blog theme supports multiple post formats; therefore, you can add videos, images, audios, etc., to make your blog more engaging. You can also add a custom logo and header while changing color and typography.
Gucherry Blog is entirely responsive and is SEO optimized to make sure it ranks high on search engines.
Fascinate is a free WordPress blog theme, which is Gutenberg compatible and comes with WordPress Live customizer.  This blog theme is ideal for niche blogging topics and makes for a professional-looking website.
It supports four post formats- video, gallery, audio, and quotes. Fascinate's in-build features include custom author widgets and social media widgets. With the WordPress live customizer, you can now customize your blog in real-time.
Hundred percent responsive and mobile-friendly, this blog theme adapts to every screen size. SEO optimized and good website load time, this free WordPress theme also supports external plugins.
Hueman is a multi-column free WordPress blog theme. It can easily shape itself into a magazine-style website as well. It is one of the best-rated magazine-style blog themes on WordPress.org.
You can bifurcate your content into content categories, and there is also a featured content section to display your best or recent post. Although it is a multi-column blog theme, it also has a full-width and a two-column option.
Optimized for speed and better load time, Hueman is responsive and powers over 70,000 websites around the globe.
Natural Lite is a free WordPress website that is best suited for business and blogging. As the name suggests, anything natural, handmade, organic will go well with this blog theme.
Therefore, a blog that has to do anything with nature, environment, nature tours, etc., doesn't get better than this. The theme works seamlessly with the Gutenberg block editor, and it is also compatible with popular page builders.
 The homepage comes with sections to describe your services, work, and portfolio. It has a custom header, layout choices, and color options. All these features on your homepage appear over a textured background.
Responsive and optimized this blog theme is a must-have for the natural and environment niche blog topics.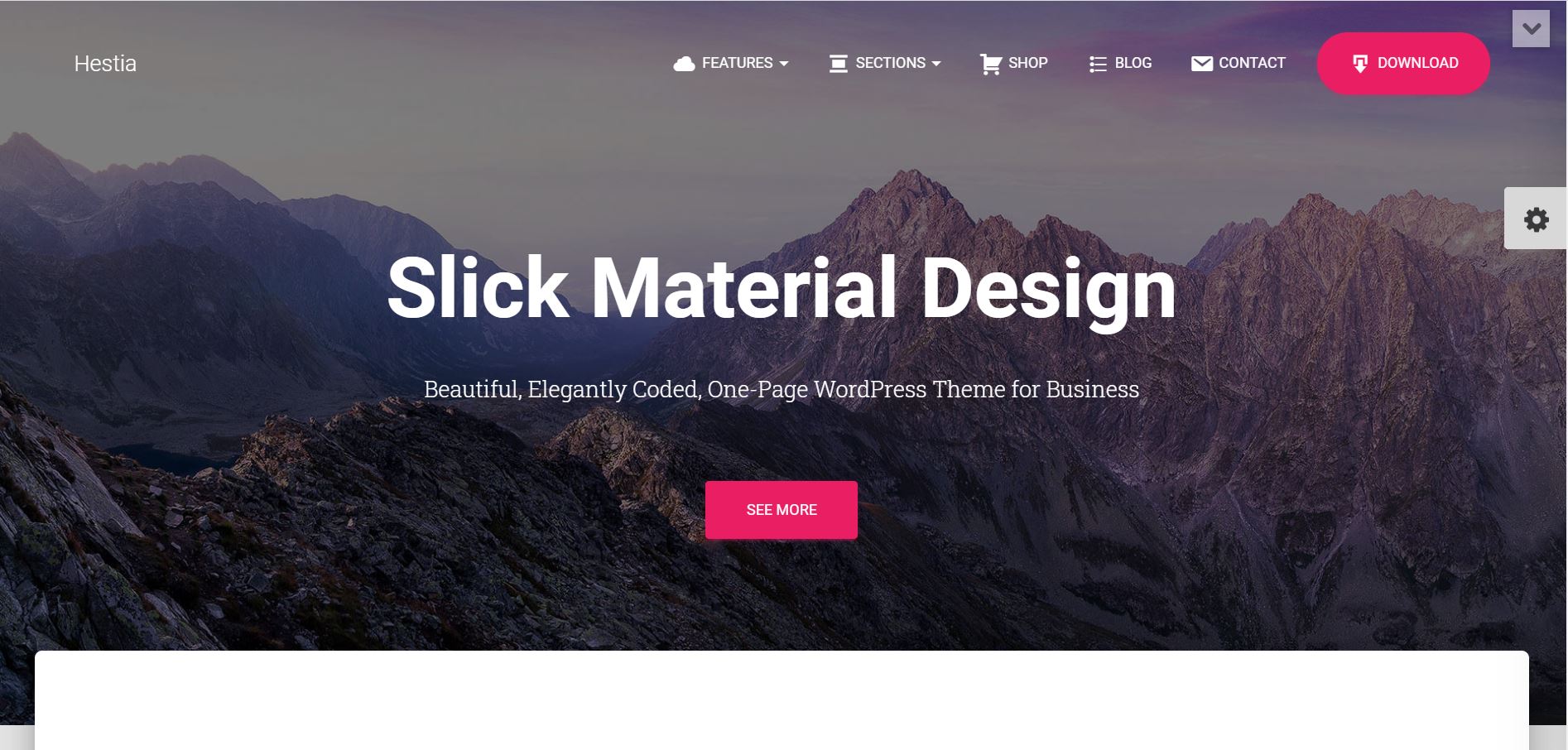 Hestia is one of the simple free WordPress blog themes to set up and customize. It can mold itself into any kind of website: blogging or e-commerce.
Hestia is supported by the live theme customizer that allows bloggers to customize the theme according to your requirement. With WooCommerce integration, you can quickly turn your blog into an online store.
In case you want to add testimonials to your blog, there are additional plugins that Hestia supports. Although it has a minimal layout, it is SEO optimized and doesn't compromise on speed.
Conclusion
Blogs are many, but only the best ones flourish. With a blog theme, you can make your blog sites look and feel professional. Whatever be your niche, your website must resonate with it.
Regardless of what blog topic you choose, there is a free WordPress blog theme for all. An ideal blog theme must have customization options to give you all control over your blog.
With customization freedom, the theme must be SEO optimized to help you get those ratings. And let's not forget load speed and user experience.
These top 15 blog themes are the best among their categories and are worth a try.
[contact-form-7 404 "Not Found"]