Times have changed when we look at our shopping habits and preferences.  Shopping online is a new hobby. Regardless of whether you make a purchase, filling the shopping cart is a guilty pleasure. Isn't it?
With WordPress themes, you can create unique shopping experiences for your customers. Identifying the right theme is thus a crucial decision.
I'd say it's as important as your product/service. After all, it's your e-commerce website's look and feel that helps retain visitors.
Free E-commerce WordPress themes have all the tools you need to build the perfect website. From navigation options to versatile layouts, these WordPress themes are worth adding to your Wishlist.
15 Best Free WordPress Themes for E-commerce
With a staggering 9.7 rating and over 2 lakh+ downloads, Neve is a free e-commerce WordPress theme. The responsive, simplistic, yet modern design is proof of why this theme is so loved.
A multi-purpose WordPress theme at heart, Neve can quickly turn into an e-commerce site. It is compatible with a majority of page builders like Elementor, WP Beaver Builder, Divi, etc., giving you complete freedom to experiment.
Neve offers you a one-page layout, and the interface is attractive and engaging. This free WordPress theme has a feature to add ratings on your products. For all those who bank on ratings, this feature is a joy to have.
Phlox Digital is a more recent free WordPress theme by Phlox. With it's one of a kind layout and minimalistic design, this theme will suit any e-commerce website.
Compatible with WooCommerce and Elementor Page Builder, Phlox Digital Shop is entirely customizable. It gives you four additional pages with the Home page. About us, Shop, Blog, and the Contact Us page.
If you love bold and pastel colors, this theme allows you to play with them. Using negative space wisely, Phlox Digital Shop follows the grid layout to display products.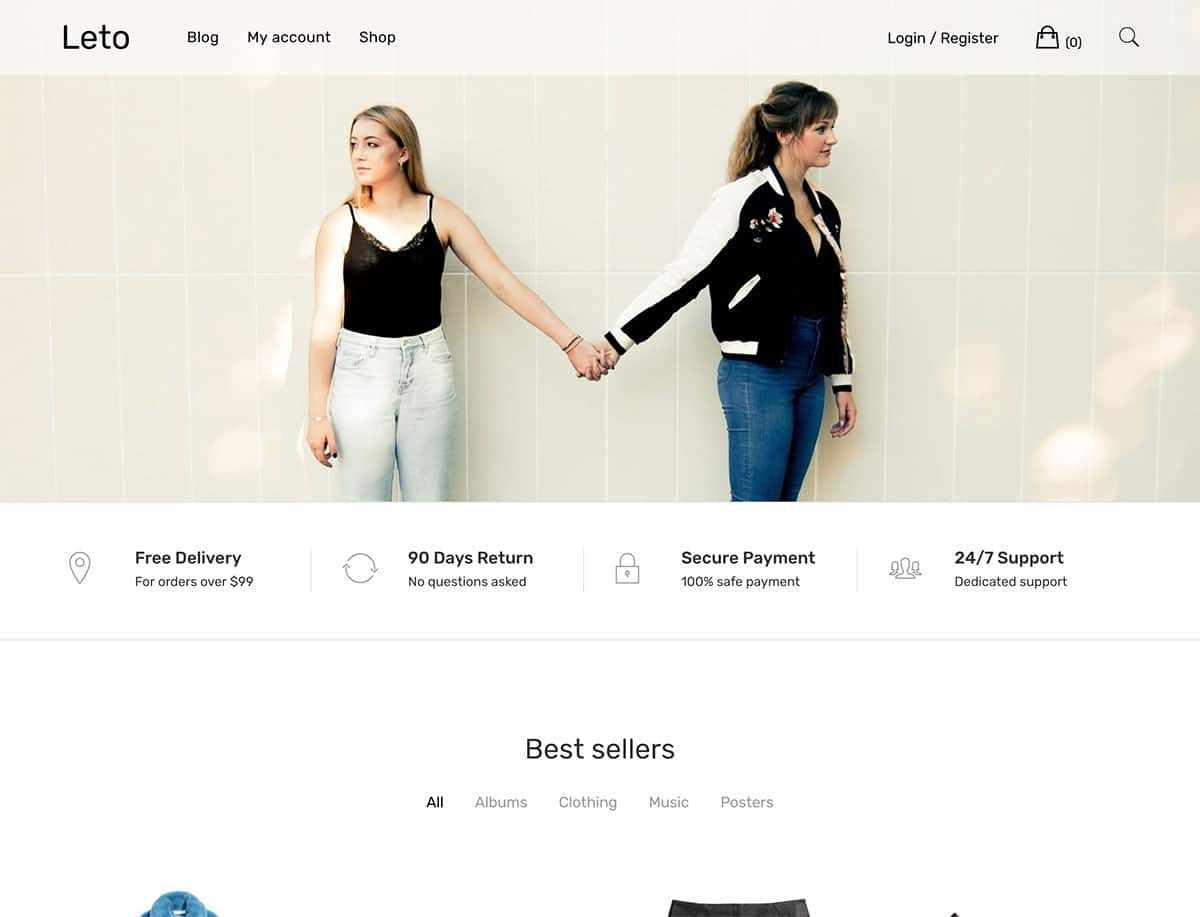 Leto is a free WordPress theme that suits just any e-commerce website. It comes with WooCommerce compatibility making it customizable to any fit every need.
With a large header, it gives you space for promotions or to play videos and images showcasing your products. Leto's theme options have everything from typography, color palates, fonts, etc. for you to try out.
This e-commerce theme comes with a set of widgets that can easily be set anywhere on your homepage. An added advantage is that it gives you free access to Google Fonts.
Free WordPress themes don't often provide such a facility. That is reason enough to give Leto a try.
Don't want a theme to hinder your creativity, then Zigcy Lite should be your pick. This free WordPress theme is a customizer-based theme integrated with WooCommerce, to give you all the features you need.
You are in complete control of your homepage with the ability to change fonts, colors, and layout. It comes with a set of sliders that help promote your products, and CTA sections to drive sales.
Interestingly, it also allows you to customize your checkout page. You can personalize it to increase conversion rates.
Zigcy Lite has a 4-page layout and is entirely SEO optimized. It is a responsive, fast-loading theme and is translation ready.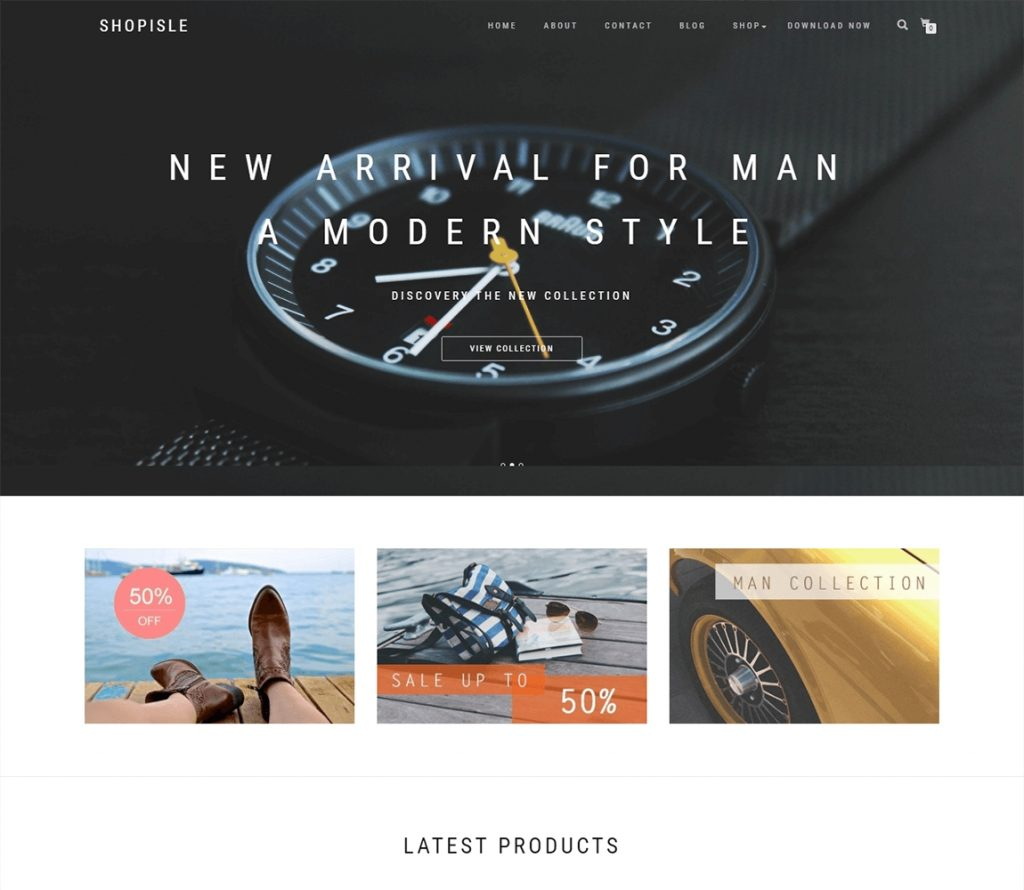 Shop Isle's theme is a go-to if you believe images speak louder than words. This free WordPress theme has a unique layout that focuses more on product pictures that will entice customers to buy now.
For a free e-commerce theme, it comes with features like the parallax effect and flexible design that help you build the best shopping experience.
Plugins like Contact Form 7, Photo Gallery Grid, and many others have been tried and tested to work seamlessly with this theme. With the inbuilt options and external plugins, this theme will make your e-commerce website stand out.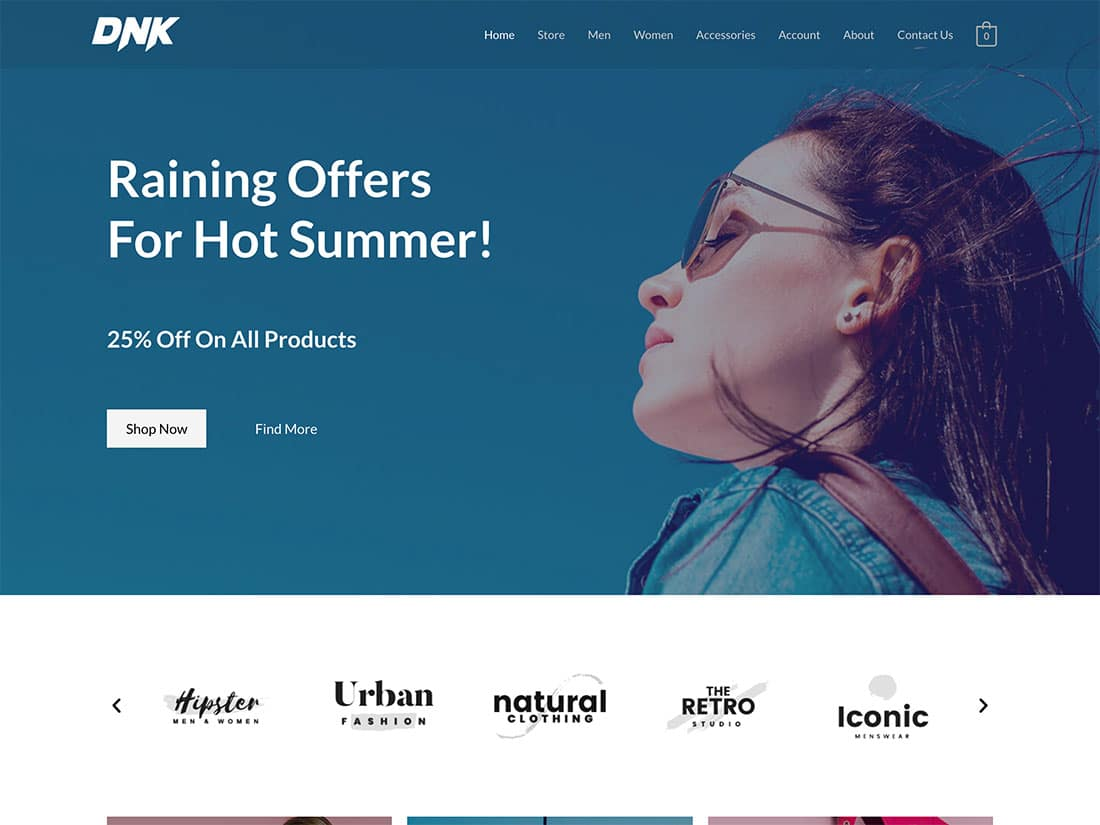 Astra claims to be the fastest loading WordPress theme of all. And we all love a fast loading e-commerce site. It is supported by page builders like Elementor to give you sole authority to drag and drop elements anywhere.
This WordPress theme is easily customizable and comes with many options to change colors, fonts, layouts, etc. Integration with Elementor gives you additional customizing options to make endless combinations.
It fashions transparent headers and mega menus for you to add and promote all you want. Astra is SEO-friendly, easily accessible, translation-ready, and responsive. Astra gives you all under one roof.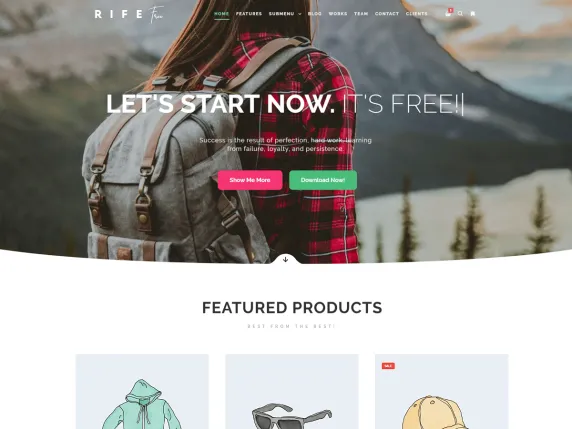 Rife stand out because it has seven premade layouts for you to choose. One of them is the e-commerce website demo, which follows an easy install method— a single click.
With a single click, this free WordPress theme gives you a full-fledged ready-to-use website in minutes. With the header space at your disposal, you can use it to highlight feature products or a compelling CTA.
Supported by popular plugins, this e-commerce website theme integrates Elementor. Drag and drop will enable you to create marvels with your design ideas.
Rife is translation-ready and responsive, giving you the same experience across all devices.
Zakra is a free WordPress theme that also has WooCommerce and Elementor integration. These two plugins allow you to place elements anywhere on the screen, befitting to your brand's needs.
Like most WordPress themes, this offers a header to display and highlight featured content and CTAs. Zakra knows how including sections and categories is essential for an e-commerce store.
Therefore, it gives you multiple sections and categories to further divide your products.  The rest of the page follows a simple, clean grid structure to arrange products.
An exciting feature is its newsletter feature. With this feature, you can have your customers subscribe to your newsletter and stay updated.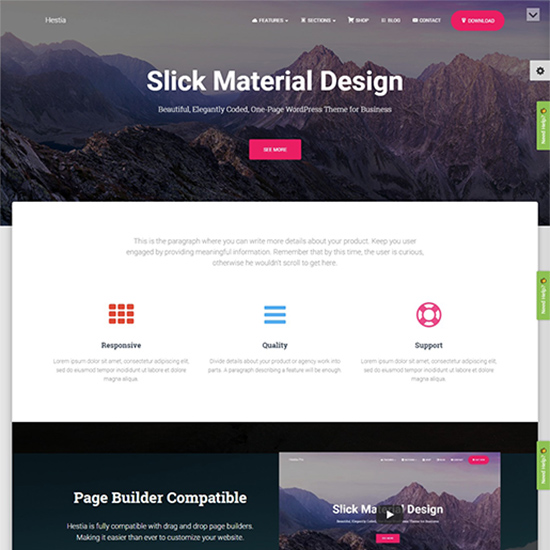 Hestia is essentially a multi-purpose free WordPress theme. Nevertheless, it works exceptionally well as an e-commerce website theme. The layout sure differs that of an online store, but that's the catch.
Following a unique layout, this theme is aesthetic looking and is feature-packed.  Hestia integrates WooCommerce and Live customizer for you to modify and create your website easily.
 Supported by all famous page builders, Hestia allows you to view your changes in real-time. Its features include typography, icons, fonts, and layout designs.
In addition to which it has custom backgrounds, portfolios, and galleries to display your products differently. This theme is completely SEO optimized and built for speed.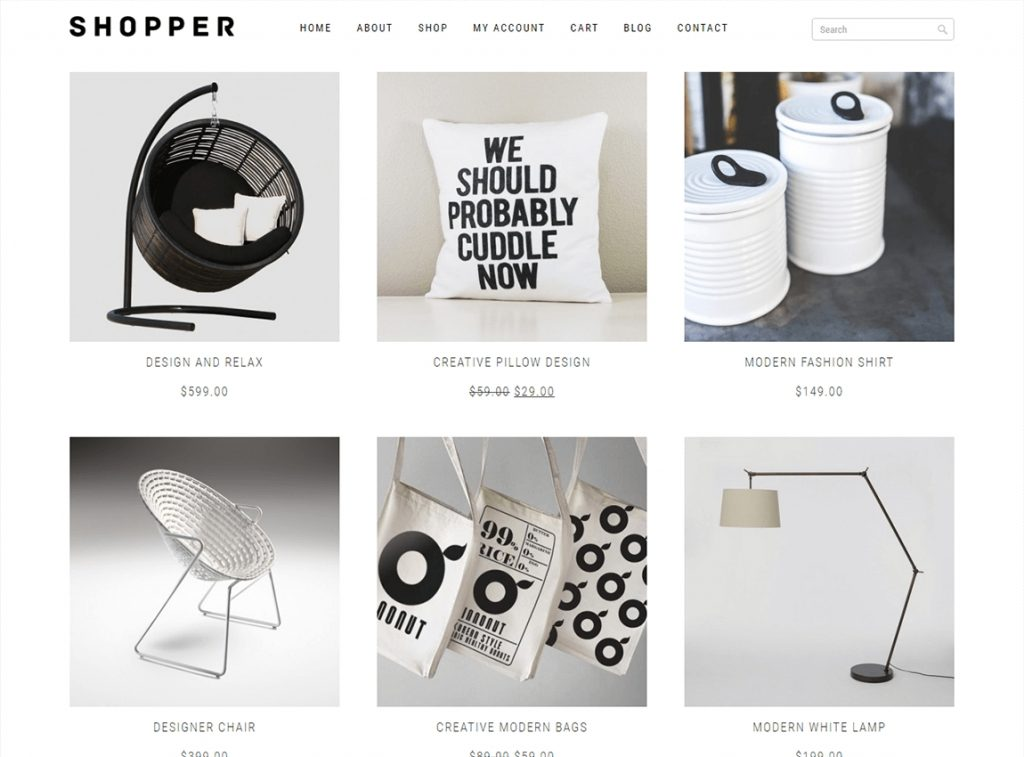 Shopper is a free WordPress theme like all others, is a responsive theme. WooCommerce integrated; it helps you create anything and everything on your e-commerce website.
This e-commerce theme essentially requires two plugins to increase further your designing options—WooCommerce and WooCommerce Colors, namely. With these installed, your website will be up in minutes.
Shopper falls under the umbrella of minimalist themes. By giving you enough white space, this theme is ideal for drawing focus on your products. It also comes with a lovely blog layout.
An SEO-friendly, browser compatible, and flexible theme is all you would want. You can have it all with Shopper, a free WordPress theme.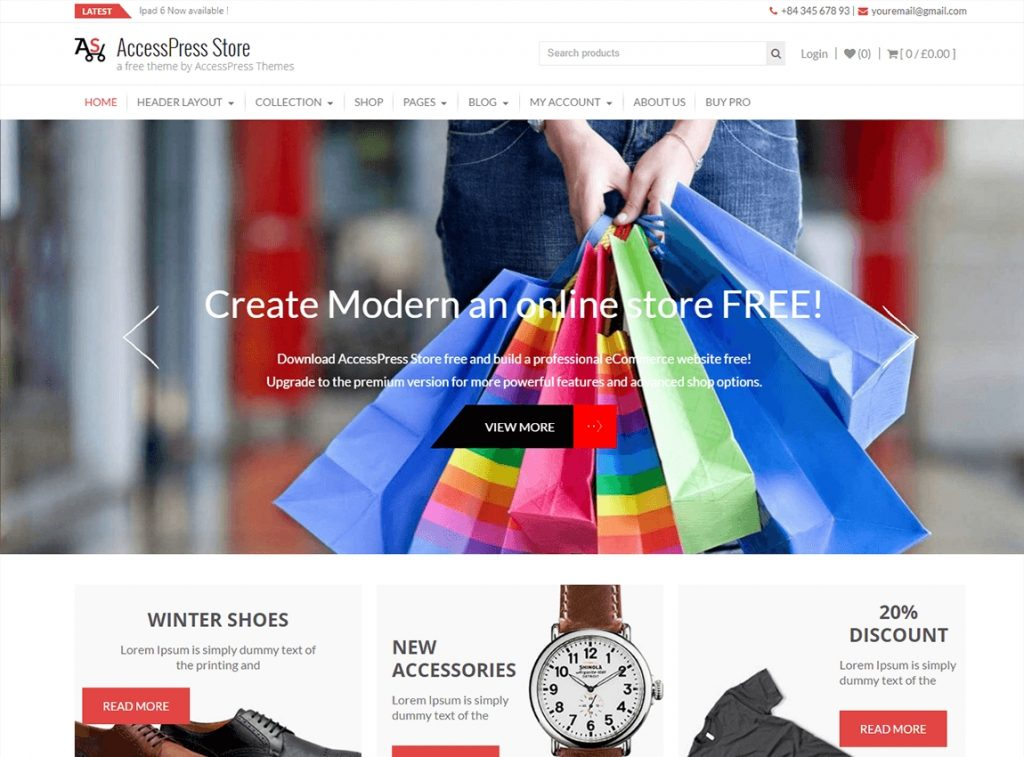 AccessPress theme introduces its very own theme known as the AccessPress Store. This free WordPress theme has an inbuilt customizer, so you have no restrictions on making your site just the way you like.
With sliders for your homepage, this WooCommerce integrated theme is completely SEO optimized and supports many other plugins. Modifying options are limitless with AccessPress Store.
One of them is to add videos to your homepage. There's no way your customer will miss that. With AccessPress Store, you get a beautiful mobile-friendly website too.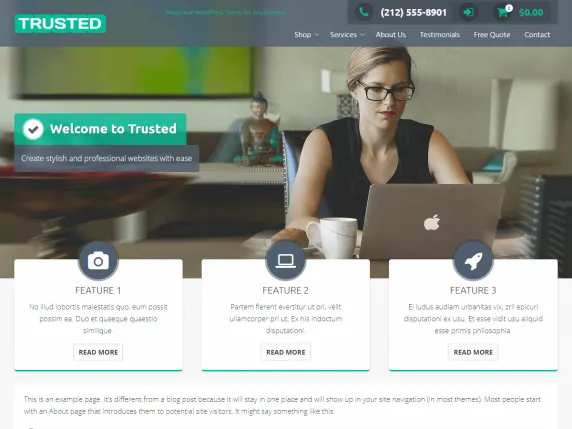 Trusted is a free WordPress theme that suits any business website. It also makes for a robust e-commerce website. With the three hover-feature option, it's a standout choice for an online store.
With Trusted, you can have your headers in light and dark styles. Supported by page builders, it allows you to design hassle-free. This theme comes along with neat blog layouts too.
Trusted offers you 9+ widget areas, four completely customizable sidebar designs, and a fast loading website. What more do you need to trust this free WordPress theme?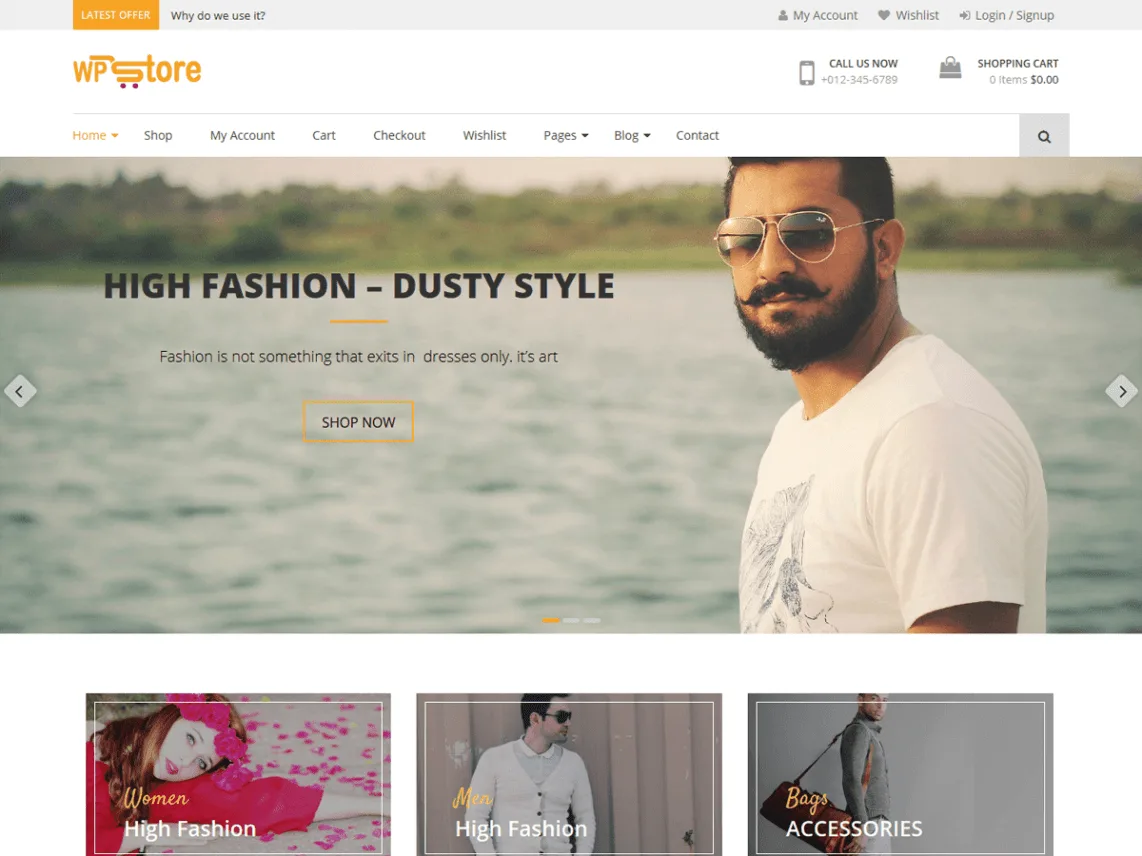 Talking of free WordPress themes, how can one miss out on its very own WP Store. It's safe to say that the WP Store is among the best WooCommerce and e-commerce website themes.
WP Store has a full-width homepage and boxed layout. The home page is simple and serves the purpose. Some of their features include the product listing and the product information page.
With brands display on their homepage and tickers to keep your customers updated, this theme makes many efforts to help drive sales. WP Store is responsive and is SEO friendly too.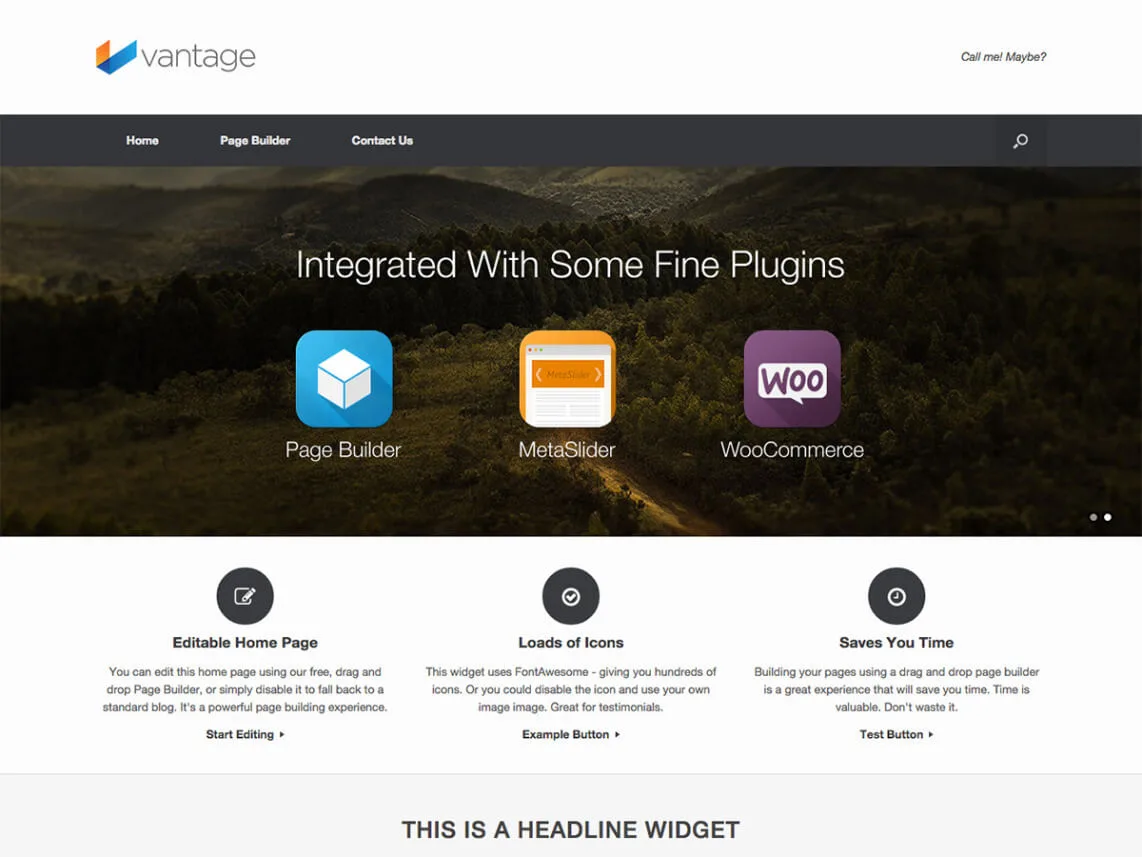 SiteOrigin presents to you their very own e-commerce theme, Vantage. This free WordPress theme has all the features you are looking for in your e-commerce site.
Vantage's demo homepage fashions a full-width slider and neat icons with bold headline text. With the Meta Slider plugin, you can customize them too. WooCommerce and Page Builder integrations make it even better to use and design.
It gives your website a professional look at zero cost. Vantage is undoubtedly a theme you would want to try.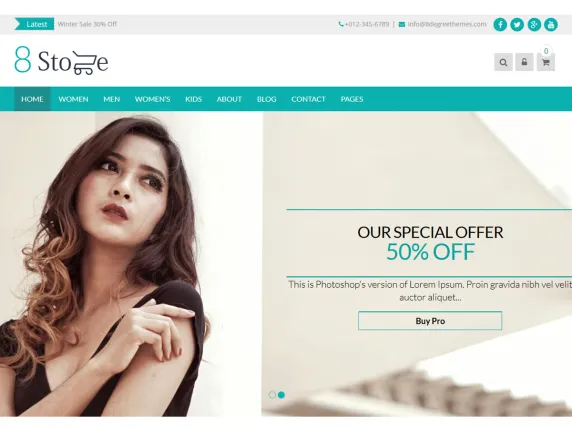 Eight Store Light comes with a ton frontend features like no other themes. It gives you large headers, thumbnails, and links to your products, and much more.
You can use them to create pretty promotion banners. All useful e-commerce websites have them. It is compatible with the WooCommerce plugin, making it easy to design.
The product slider stands out among all other features. It allows you to put your best sellers on the homepage for all to see. Testimonials are another feature that this free WordPress theme offers.
Why wait when you can get all these features in one theme. Therefore, Eight Store Lite is a recommended theme for your e-commerce website.
In Conclusion
Analyzing these 15 free WordPress themes has brought to our notice how much a website's theme matters for its functionality.
It's safe to say that plugins like WooCommerce and Elementor are essential for today's websites. So many of our examples had themes integrating these essential plugins.
Choose a WordPress theme that gives you all the features you need with a limited need for plugins. Always remember, a fast loading e-commerce site is a bliss.