Everyone wants speed, and so does your visitor. A high bounce rate, low conversion rates, and lesser visitors are indicators. These indicate that you need to conduct a website speed test now!
The ideal load time for a website is less than 4 seconds. If your site fails to load within 3 seconds, visitors will drop out.  Bounce rate increases with every passing second. And that makes load time all the more critical.
No business wants to be in such a spot. A website speed test will help you out of this problem. It analyses what is slowing your website and identifies other obstacles. Once identified, you can enhance your site's performance.
Here are 10 Best website speed test tools to give your website the boost.
10 Best Website Speed Test Tools
GTmetrix is our top website speed test tool. It is a platform that analyses and provides an in-depth report. Data representation is visual, making it easy to understand.
You can test your website's performance in any country, regardless of varying browsers. In addition to identifying the errors, it recommends solutions to enhance speed.
It also provides a summarized report of key performing indicators and monitors. The best part is, it's free.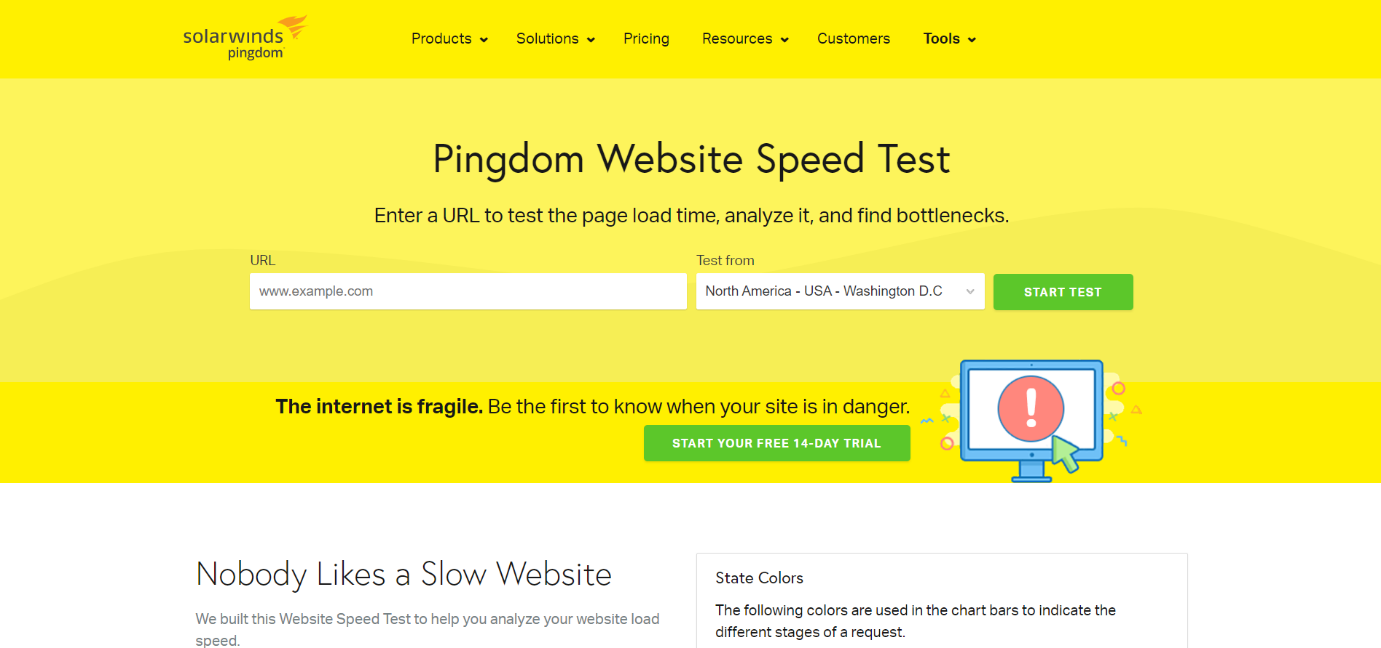 Pingdom is the most popular website speed test tool in the market. It is an appropriate tool for a detailed performance report. Pingdom allows you to test individual web pages on your site for better results.
It rates your website's performance on a scale of 1-100. Performance report includes a waterfall graph, a grade, page analysis, and history.
That's right. Pingdom records your performance history to keep track of your improvements. All this falls under the free Basic plan.
Uptrends takes website speed test up a notch and gives you API monitoring services. You can analyze your performance from across 180+ locations.
It voluntarily identifies web performance issues from across browsers and notifies you. Besides the website speed test, Uptrends monitors multi-step transactions on mobile devices too.
The report features two sections- the waterfall graph and the domain group. Your performance report is made available in pdf format via direct emails.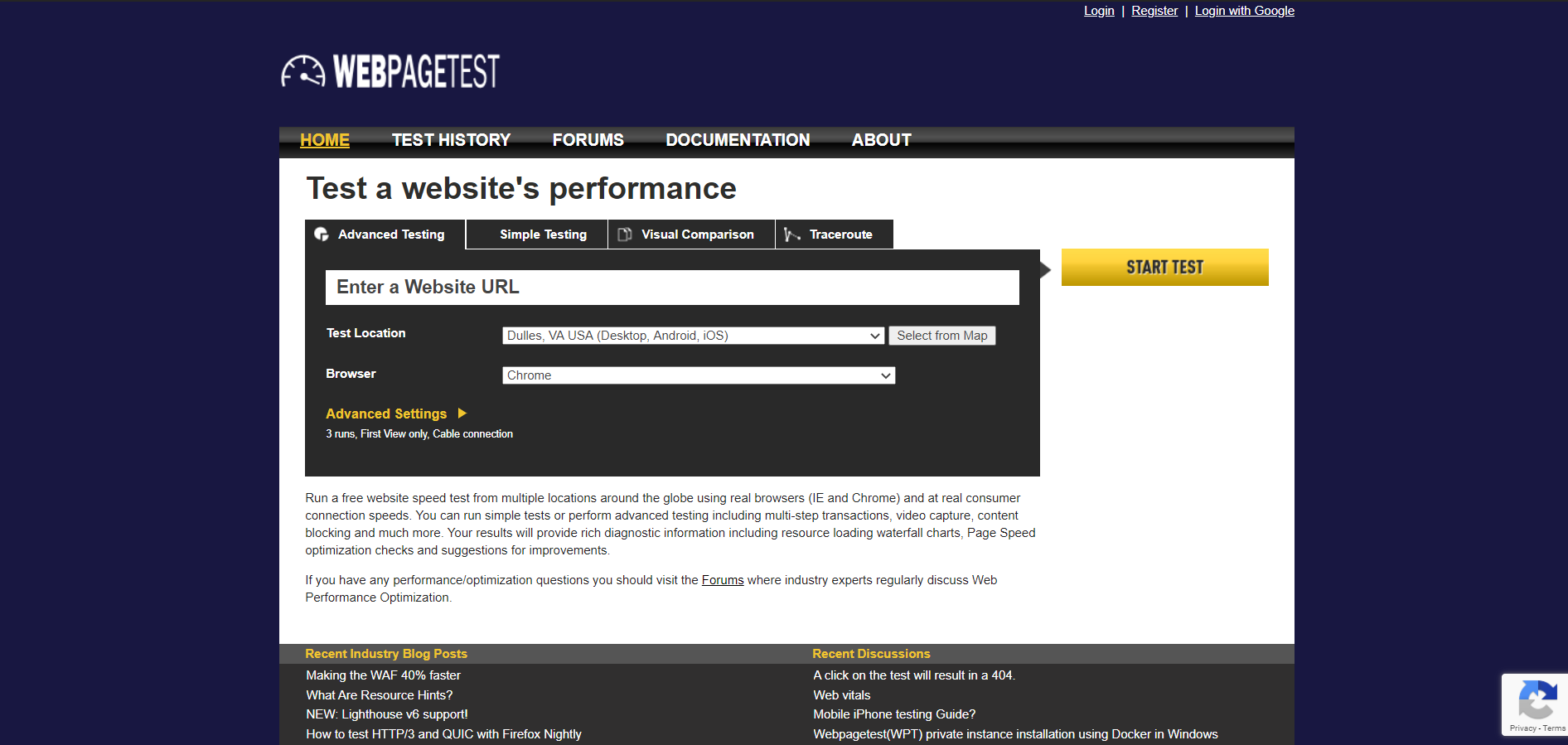 WebPageTest is an advanced website speed test tool. Along with the fundamental performance analysis, is dives deeper into finding solutions.
It associates a grade to your website ranging from A to F. Grading categories are load time, compressions, caching, CDN use, etc.
You can conduct necessary website speed tests as well as advanced testing. The latter includes multi-step transactions, video capture, content blocking, etc.
To sum it all up, WebPageTest gives you an elaborate 6 section report. It includes Content Analysis, Performance Review, and others.
Like established before, CDN services are essential for your website's performance. CDN stands for Content Delivery Network, and it deals with the issue of latency.
KeyCDN is the best website speed test tool in these terms. It identifies the top problem users face—connectivity issues. Considering these reports, you can take measures to improve your web server.
KeyCDN also provides tools like HTTP verification, ping testers, and IP location lookups. It's the best website speed test tool, and it's free.
Dareboost is a website speed test tool that roots in competitive analysis. It allows you to compare your performance with your competitors.
With the performance and competitive analysis done, it suggests measures to improve. Dareboost gives you multiple optimization tips to speed up your website.
It keeps a close check on customer behavior on your website. Adding to this, it detects issues frequently to improve connectivity and load time.
Speed Curve is a website and design performance measurement tool. Along with being a website speed test tool, website design matters too
This tool enables you to rectify issues on a webpage level. It sure gives you an overall report but also runs page diagnostics. Speed Curve presents engagement charts that help you realize the impact.
An exciting feature of this website speed test tool is the performance budget. It allows you to set short term goals and helps you achieve it.
Google PageSpeed Insights is slightly different from the other website speed test tools. It may not give you the charts and measurements like the others but is worth looking at.
Aren't you trying to reach the top of search results on Google? If yes, then it is a wise decision to consider this tool. Just by entering your site URL, you can get a desktop and mobile version of your website's performance.
Google PageSpeed insights will grade your website from 1-100. Therefore, the higher the score, the better it is performing. The results are in two forms: lab and field data.
Lab data deals with performance issues, and field data caters to real-time user experience. Such a report gives you an elaborate sense of the problems your site faces.
Dotcom- Tools is one of the most comprehensive website speed test tools. Like every other one we discussed, this tool gives you a performance report across different locations.
While other tools only allow you to check one area at a time, Dotcom analyses 25 at once. This facility enables you to analyze what is reducing your load time across countries.
You will know how every location interacts with your website. With this information, you can take specific measures to improve performance across the globe.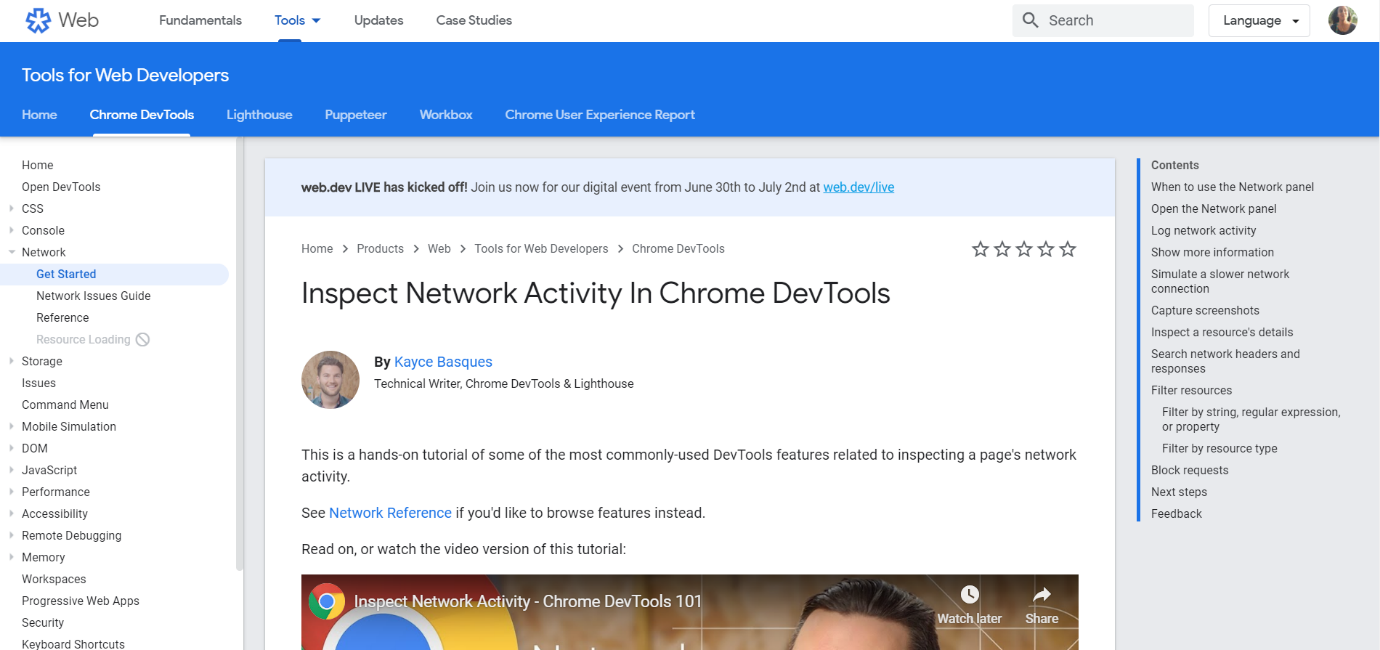 The best part about this website speed test tool is that it is built directly into Chrome. The most widely used web browser.
Chrome Dev Tools is entirely user friendly. It comes with tutorial videos for beginners on how to code. Chrome Dev Tools primarily work towards improving load time.
Along with that, it provides optimization tips for those who want to use them. The target audience for this tool is the developer. Therefore, these tools support page editing and diagnose problems too.
Conclusion
These tools will sound convincing only when you address the problem. It becomes crucial for you to keep your website updated.
Time and again, researches have confirmed, website speed is a critical factor. Your page load speed determines how many visitors will engage with your site.
Along with good load time, it must be Search engine optimized. Google prefers those websites that have high SEO ratings and load times. Therefore, making it to the top of the results page is no rocket science.
Most importantly, your website speed will determine conversion rates. A fast website will lead to happy customers and rapid conversion rates.
Remember, Fast and Optimized sites win the race.